I bought my grandson a Halloween book today. He totally loves Halloween! Yesterday he and I took a ride to the store to stock up on some Halloween decorations, most for me because I didn't have any, but I told him before we left that he could also get something for himself. If I thought my son loved Halloween as a child, my grandson is on equal footing. We picked out a skeleton that has popout eyes and tongue when you press a button, some shiny bats, skulls, and pumpkins, five real pumpkins, four small and one large one, and a big spider web complete with purple mini lights and a big purple and black spider in the middle. He chose a skeleton that makes noise and rattles a chain for himself. He is 4 1/2 and insisted on carving the pumpkin himself. He did a pretty good job actually. I bought a little pumpkin carving knife along with the pumpkin and he used that. I had to stand guard moving his hand away from the blade on various occasions but we finally ended up with a jack o lantern and he still had all of his fingers intact. The jack o lantern only has one eye, he wanted it that way. It's cute!
I got to thinking about costumes and Halloween clothing and decided to see if I could find a Halloween shirt that I would actually wear. I'm not into the cutesey pumpkins too much and so when I saw this really cute shirt at a
Union Eight
shop called
TeeShirtsTShirts Awesome Tee Shirts and Gifts
I knew I finally had not only found something I would wear, I had found something that I found absolutely perfect. It's funny, it's original, it's unique, it's just plain awesome! Check out this Halloween T-shirt that I think is a must have for me!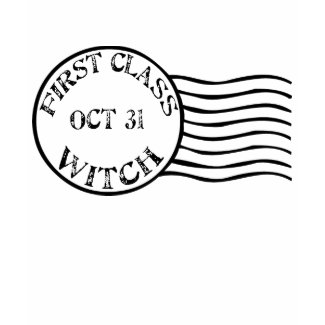 Halloween First Class Witch
by
TeeShirtsTShirts
If you poke around at
TeeShirtsTShirts Awesome Tee Shirts and Gifts
you'll find they have lots of great designs for Halloween as well as other holidays but they also have some really funny designs, awareness designs, and much more!