I'm not sure why but when I think of skateboarding, I think of it as a boys sport. Perhaps it's because my son and all his male friends loved to skateboard, in fact, my son is 23 and still loves it. I was rather surprised earlier this evening to see a group of girls skateboarding. I'm not sure why it surprised me, it's not as if I don't know girls also participate in the sport, perhaps it was more to see an entire group of them. Like I said, I think of it predominantly as a boys sport for some reason.
I was just driving by, so I'm not sure what kind of skateboards the girls have, but it did get me to wondering what type of skateboard design a girl would choose. I'm pretty sure she'd like one of the great designs found at
TeeShirtsTShirts Awesome Tee Shirts and Gifts
, like this one...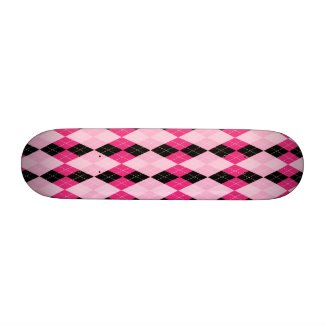 Pink and Black Argyle Plaid
by
TeeShirtsTShirts